Let's face it – everybody thinks "GTO" when you mention a 1967 Pontiac.
I'm restoring a 1967 Pontiac, but it's not a GTO. It's a much rarer Poncho – a  Tempest Custom 2-door hardtop.
Did you know that a 1967 Pontiac Tempest Custom 2-door hardtop is the rarest of all the 1967 Pontiac intermediate hardtops? It's true, only 35,502 Tempest Custom hardtops were made, compared to 65,176 GTOs and 75,965 Lemans hardtops – body style 17.
What you're looking at is a true survivor, and what the car looked like when I drove it home from Northern Colorado in the Fall of 2007 (minus some really ugly plastic K-mart hubcaps).
Striking as she was, sitting in a gravel parking lot with a for sale sign in her window, I couldn't help but notice how complete and unmolested she was. A short phone call to the owner, and I was all over the car. The story gets even better under the hood –
the rebuilt 326 2-bbl Pontiac V8 she was born with (numbers-matching)
power steering
power disk brakes (wow)
Automatic (turbo 350, 3-speed)
A short test drive was all it took to convince me to bring this old girl home that very day. I couldn't believe my luck when the owner accepted my personal check! One quick signature, the sound of ripping paper and I was off to home in Colorado Springs, CO.
While 2 quarts low on oil (due most likely to very leaky valve covers and which I refilled immediately), I did make the trip home to Colorado Springs – about 100 miles – without incident. I like to think I made the trip in style. With a leaky, rusted exhaust system blaring the sweet sound of an unmuffled Pontiac 326 roaring at 80 miles per hour, we made a great pair. When I got home, my wife was thrilled (yay!) and we parked in the garage that night.
Even though the car looked fairly decent, I knew she hid some deep secrets. Other than the obvious bent rear bumper, there were some tell-tale signs the old girl had some rust.
The first bit of rust that caught my eye, even before I bought the car, was the rust below the tail lights.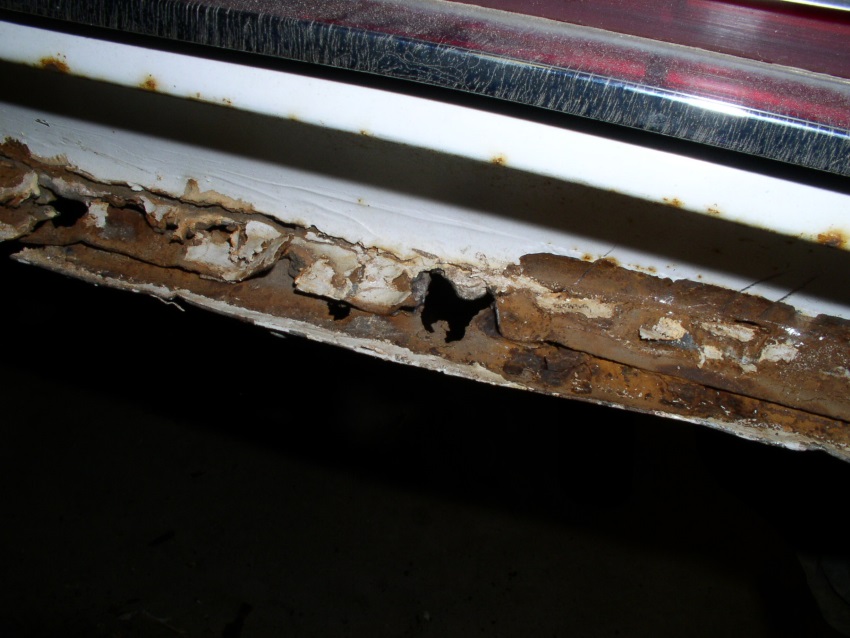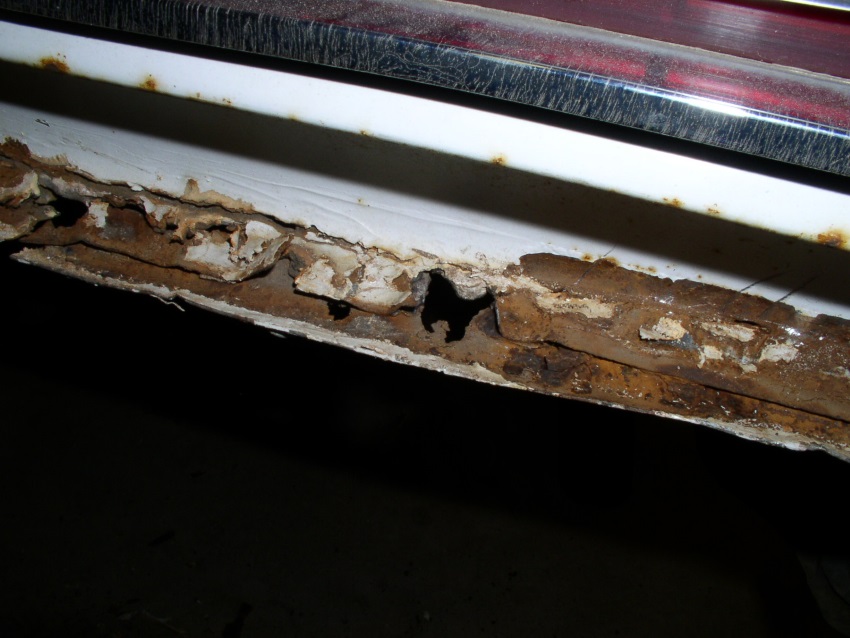 The original Cameo Ivory exterior had one poor quality repaint with a similar color. The poor body work under the paint was obvious and the clear coat was peeling off all over.
Numerous dents, dings and scratches all over the car (and a couple of places where big gobs of body putty were pulling away from the body) indicated that a fair amount of body work might be coming up.
I immediately set out to replace the front brakes as I noticed the calipers were dragging. You might ask – how did this little Tempest get disk brakes? That is a question I have as well. The installation looks to be factory-correct. A factory proportioning valve is installed in the right place and brake lines look unmodified. The two piston calipers were gone, replaced with generic GM single piston calipers.
I suppose it's possible that someone along the way replaced the drums with a disk set-up. But it's just as likely this car came from the factory with disk brakes. Maybe a reader with better information can enlighten us. Either way, the brakes work great and I am delighted to have them!
This is all I have for this installment. I will post more of the restoration saga that took place over the last five or so years. But I did end up with a spectacular car and there were many surprises, problems and moments of sheer terror as I worked my way through this car's myriad problems.